Spyglass.
Finally here: Spyglass v2.0!
Getting Started
The Spyglass comes in a box. After unpacking it, you will find a folder "(CTS) Spyglass v2.0" in your inventory. It contains two objects, the Spyglass HUD and the Beam.
Wear the Spyglass object. This is the actual Spyglass and will attach to your heads up display (HUD). You will find this HUD on your screen: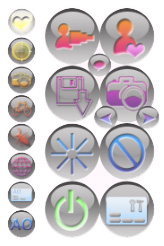 Learn more about what the buttons do.
For normal use you don't need to attach the Beam object. It is a particle emitter that emits a beam to pinpoint an avatar or an object in radar or bug scan mode. You will need it only when you want to use the

button.


Depending on what you want to do with your Spyglass, you can start looking for camera settings and save them as lookmarks, start adding friends to the Spyglass's friends list or the online monitor.
Further Reading.
Overview of the HUD interface • Lookmarks • Lookmark scenarios • Friends list • Online monitor • Spyglass Overview