LuckyCharm
Boost Your Lucky Chair Luck: Never Miss Your Lucky Chair Prize Again!
Do you know this experience? You have been waiting before a store's Lucky Chairs for hours, without your letter showing up. Then, finally, you realize it's there! But you didn't pay attention when the letter changed, and the letter changes again before you have a chance to jump on the chair, or, even worse, someone teleports in and grabs the prize shamelessly in front of your nose!
The LuckyCharm does a bit of magic to boost your luck. Just wear it as a HUD or attach it anywhere on your body, and it will sit you on a chair automatically whenever it hears a Lucky Chair say your letter!
Special thanks to Lex Doghouse for her awesome idea!

Note: The LuckyCharm only works with a RLV-capable viewer (including the Emergence viewer, Imprudence, Phoenix, or the Restrained Love Viewer) and with RLV turned on. Read on below.

Get it on the Second Life Marketplace
Get it inworld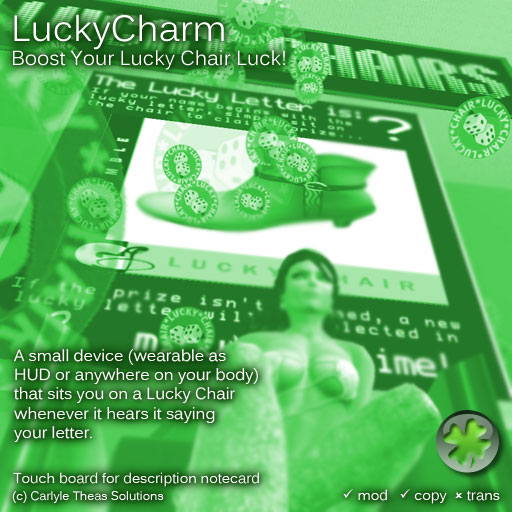 Setup
Before you begin, please not that you must use an RLV-capable viewer (including the Emergence viewer, Imprudence, Phoenix, or the Restrained Love Viewer) and RLV must be enabled.
In Phoenix, for instance, it is disabled by default. To enable it, open the Preferences, go to the "Phoenix" tab and tick the "Enable Restrained Love" check box as shown in the following screenshot: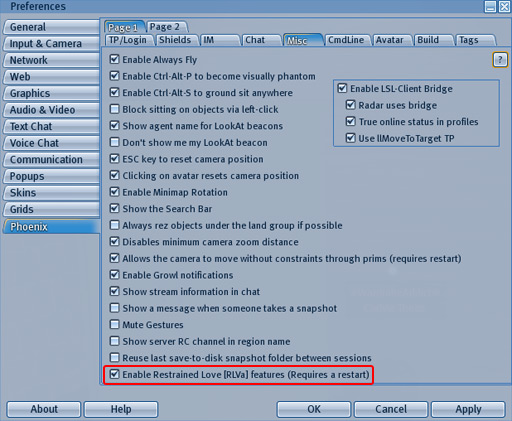 Enabling RLV works similarly in other viewers.

Once you have activated RLV, setting up is easy: simply attach it anywhere you like. By default (if you just select "Wear") it attaches to your HUD on the "top left" position. You can attach it anywhere else on your HUD, or on any other attachment spot. If you attach it to your HUD you will see a button with a clover leaf on it. Touch it to turn the LuckyCharm off, and touch it again to turn it on again.

You can also attach it anywhere else on your body. If you do that it will become transparent and it will always be on as long as you are wearing it.
Usage
When you are wearing the LuckyCharm it will teleport you to the Lucky Chair and sit you on it as soon as it hears your letter.
After attaching the device, it will check whether you have RLV activated, and it will detect your letter. You will see some messages in local chat saying whether the configuration was successful. The messages are visible only to you.
If the LuckyCharm is attached to your HUD, you can touch it to turn it on and off.
Customizing
The LuckyCharm attachment contains a configuration notecard in which you can add more Lucky Chair variants if the LuckyCharm doesn't recognize one particular Lucky Chair variant. Please follow the instructions in the notecard to add more Lucky Chairs.
The LuckyCharm script is copyable, so you can easily drop it in any other attachment of your liking.