Wardrobe.
Introduction • Getting Started • The Wardrobe HUD • The Wardrobe Menu • Taking Snapshots • Putting on Outfits • The Wardrobe Pose Stand • Saving and Restoring Camera Angles • Showing your Wardrobe to Others and Let Others Dress You • The Wardrobe Rezzable Closets • Compatibility with SL Viewers • What Customers Say • Wardrobe Gifts • A Tutorial • FAQ • Release Notes


Inworld Rezzable Wardrobe Closets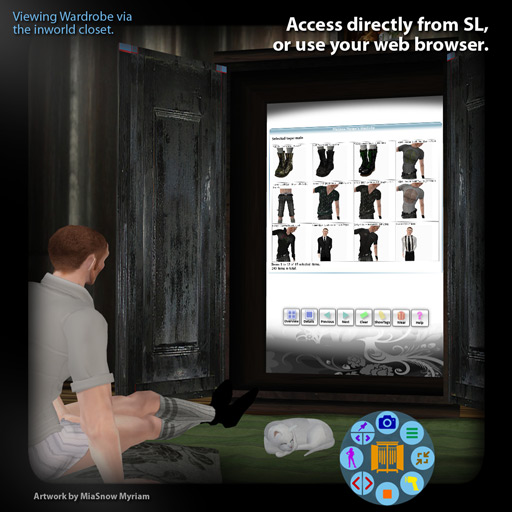 To start using a closet, click the doors. They will open and your Wardrobe will be displayed in the closet. After use, click the doors again to close the closet.
The display in the closet works exactly as the usual Wardrobe webpage.
Customizing Your Closet.
Rez the closet inworld and position it to your liking.
To change the style of your closet, open the Wardrobe menu by clicking the

button on the Wardrobe HUD. Choose "Setup" in the menu, then "Closet Style." Various door and frame woods will be displayed above your HUD: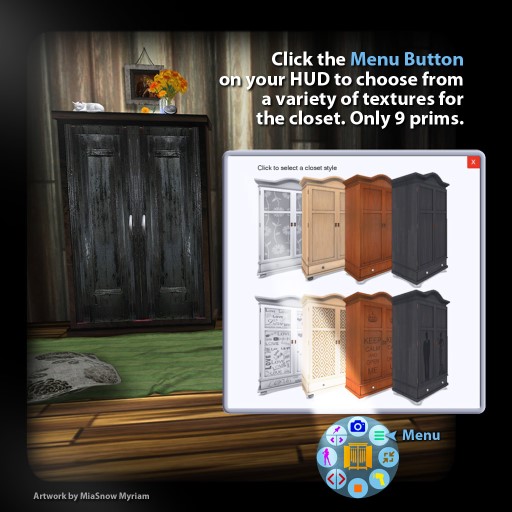 Apply a style by clicking an image. You must be within 10m of your closet so that the closet picks up your choice.
Further Reading.
Wardrobe overview • The Wardrobe HUD • Customizing your closet • Putting on Outfits